Morning Mamas!
This recipe is one of the first things I made to please a crowd. Soups/chilis are great that way because you can prepare in advance and not have to spend time cooking when guests come over. You can also customize this one for veggies (leave out the chicken and use veg broth) or vegans (leave out cheese/sour cream). I went to make it this weekend to document how easy it is. This is the first time since having my second kid…and this is the outcome.
Ingredients:
2 tbsp olive oli

4 bell peppers
2 yellow onions
2 cloves garlic
1 can diced tomatoes
1 can black beans
1 can yellow corn
1 can green chiles
4 quarts broth
1 whole rotisserie chicken or 3 roasted breasts
1 tsp turmeric
salt and pepper to taste
cayenne pepper and chipotle to taste
Please remember to follow each step precisely.
Add olive oil to large pot and warm to medium heat.
Chop all peppers and onions. Add to pot, sautéing at the bottom.
Add spices. I like a healthy amount of cayenne and chipotle. If you don't like a little heat, go easy on these. Might need to add a touch of broth to help sauté.
Now here's where it gets interesting…
4. Pause to go breastfeed 5 month old and forget to turn down peppers and onions.
5. Play with said baby on the bed. Watch her nearly crawl, wonder if she is a prodigy, and forget about the peppers and onions thus burning them.
6. Transfer peppers and onions out of burning pot to fresh pot.
But, oh wait!
7. Clean old burnt pot and transfer them BACK to original (now cleaned) pot because it's the biggest one you have and need it for the soup.
8. Realize you forgot the garlic and add garlic powder…so, what?! Who cares?!
Okay, back on track…
9. Add all cans plus broth and bring soup to boil.
Stomach growls.
10. Realize you're starving and make a salad in between holding baby and cooking.
11. (Two parter) Swear at soup when you forget you left it boiling. THEN, swear at monitor when your toddler starts to wake after only 30 minutes.
12. Throw cans into overflowing recycle container. Consider transferring to bin out front but decide to leave for husband.
Okay, don't give up!!
13. Begin taking chicken off of the bone and shredding.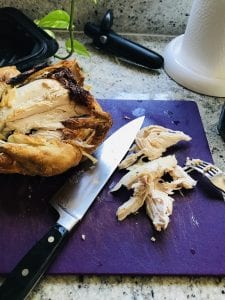 14. Go retrieve toddler from crib.
15. Panic that your now probably prodigy infant can crawl (and fly) to sharp knife on counter and harm herself. (Take your time with this one if you like).
Almost done!
16. Finally, eat the salad you made in Step 10 with one hand while holding baby and preparing snack for toddler.
17. Add shredded chicken to soup and bring to boil one last time.
18. Reduce heat to simmer until ready to serve.
19. Serve with avocado, fresh jalepenos, shredded cheese, sour cream, tortilla chips to guests with your best "I just whipped this up" attitude.
There you have it. In all honestly, even with the burning, this soup is delicious and pretty indestructible. And best enjoyed with tequila on the rocks;) Happy cooking!